(03-02-2021, 02:32 PM)

stanky Wrote:

(03-02-2021, 12:27 PM)

The Atheist Wrote: Shit, I nearly forgot this one: Dr Seuss removed from shelves due to racism: https://www.nzherald.co.nz/lifestyle/six-dr-seuss-books-pulled-from-publication-over-racist-imagery/6FGYMS63AFSXPYFWAR7I7X6TLU/


I'm so infested with Dr. Seuss books.
How do I flush them from my early brain?

btw, there's some Dr. Seuss art that wasn't for kid's books. It's pretty great stuff, though quite a lot darker than his famous books.
It's worth a look.

strange guy.

(My favorite architect.)
I've been to Mulberry Street.
Seriously, I lived in a section of Springfield, Mass. and they have a portion of their museum quadrangle dedicated to him.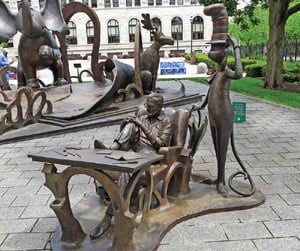 "

The moose defies domestication

." *
*

Some restrictions may apply.



~ stanky