My & I went fishing this morning - for the second day in a row. Yesterday was great, with a couple of very nice snapper that got eaten for dinner last night, but today there were only little ones and a huge eagle ray that refused the opportunity of taking my bait and dying.
My boy did a bit of exploring and found this excellent demonic brass statue: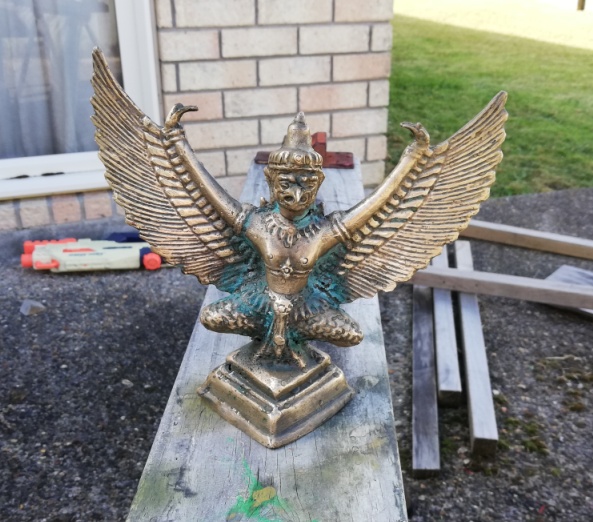 It was pretty messy, but cleaned up with Brasso, although I'll have to find something to see if I can get rid of the deep salt corrosion.
It obviously wasn't washed up, but had been at the beach for a while, hidden among some rocks in a position that looked like it had been thrown from a car. That would fit with someone deciding to get rid of it - after all, it didn't do Regan any good having one in her house.
It's about 8 inches high and same wide, weighs a pound and a bit and is now sitting centre stage on my display of the bizarre, right next to a bible with a glow-in-the-dark pentagram on it, with a megalodon tooth the other side.
Very fucking cool.
I'm picking it's supposed to be Pazuzu as I can find some images very much like it, and I can't find any other matches, but if anyone has any other suggestions, go ahead!
Extra note: This is the same beach the same boy found a message in a bottle last year that someone had thrown into the water in memory of their brother who had died a year before.
Love is... that one person whose freshly-warm toilet seat you don't find disgusting.